---
What Is PPC?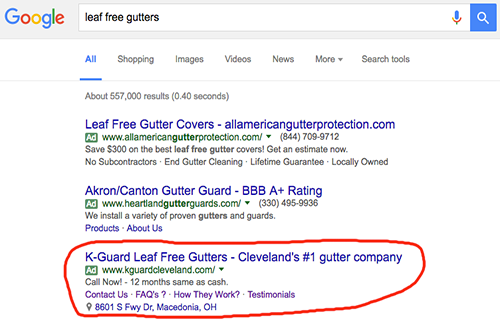 PPP stands for pay-per-clicks which is a form of advertising on the INTERNET where advertisers pay a fee each time one of their ads is clicked. Pay-per-clicks is essentially a way to buy visits to your website, rather than organic search results. One of the most popular forms of PPC is search engine advertising which allows for advertisers to bid for ad placement in the search engine's sponsored links. What this means is that when someone searches a keyword that is related to an advertisers business offering, their website will display with a small green Ad sign. For example, if you were to type "leaf free gutters" into Google Chrome, you'd notice that the third option is www.kguardcleveland.com which is one of the many responsive websites that we've designed. Each time that someone clicks on one of these ads, visitors will be sent to that website, and that website owner will pay the search engine a small free. So long as the PPC is working properly, the free in which the website owner will pay is minimal meaning that if the website owner pays $2.00 for each click, but the click and/or clicks resulted in a $200.00 sale, a large profit was made by the website owner. PPC can be used for more than just search engines, PPC can be used on Facebook, LinkedIn, Bing, AdWords, etc. To learn more about the PPC services that we offer at Xtreme Multimedia Marketing, read the information below.
Our Pay-Per-Click Services
Xtreme Multimedia Marketing offers pay-per-click advertising services as part of our social media package or individually. Xtreme offers PPC services on social media sites such as Facebook, LinkedIn and Instagram as well as search engine results in Google AdWords, Bing Ads, and Yahoo Gemini. The Xtreme Multimedia Marketing team will manage your paid advertising and ad campaigns to ensure that they reach the maximum amount of viewers and customers. If you'd like to learn more about our paid advertising services, contact us today!
---
Call us today at 330.577.8766 and we'll discuss what we can do for you!