---
Xtreme Responsive Websites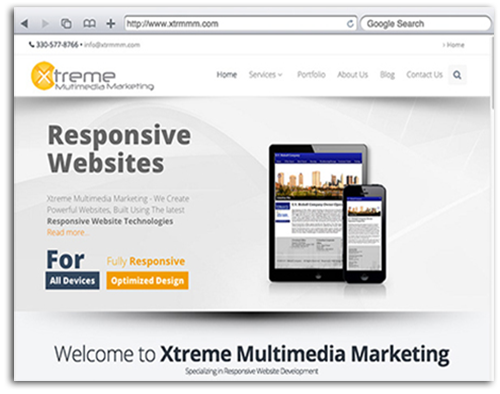 At Xtreme Multimedia Marketing, we create compelling websites by using the latest responsive website technologies to ensure that your website will display flawlessly no matter what type of device or display resolution your visitors are using.
In today's ever-changing marketplace, it's become essential for businesses to have a mobile presence on the Internet as well as catering to the Desktop Computer users. With an Xtreme Responsive Website, we'll help make sure that both mobile viewers and desktop viewers have full access to your new website.
Desktop Computers, iPad's, Galaxy Tablets, Windows Tablets, Smart Phones, etc. it doesn't matter, your new website will automatically recognize the browser's display resolution and adjust the content of each page, so it displays in the proper format. Making sure that your new website displays correctly on a visitor's smart device is crucial because most viewers will just move on if the display doesn't work properly.
At Xtreme Multimedia Marketing, we make it our priority to spend time with each and every one of our clients discussing website purposes, goals, and expectations during the initial development process. After that, we'll construct a website foundation including a general grid layout and styling; then we'll go back to our client for feedback. Once we have approval, a website template will be constructed, and content will be added to the website. We value our clients which is why you'll never find us jumping ahead and make significant decisions without consulting our clients first.
We have competitive pricing structures starting as low as $299.00. Contact us today we'll figure out what works best for you at a price you can afford! No cookie cutter, one size fits all packages here! At Xtreme, we design customized digital marketing plans with a pinpoint focus directly on your companies targeted audience.
---
Don't Break The Bank!
Xtreme Multimedia Marketing will help you get the word out for your business without breaking the corporate budget!
Call us today at 330.577.8766 and we'll discuss what we can do for you!